The future of Accounts Payable: manual vs. AI AP processing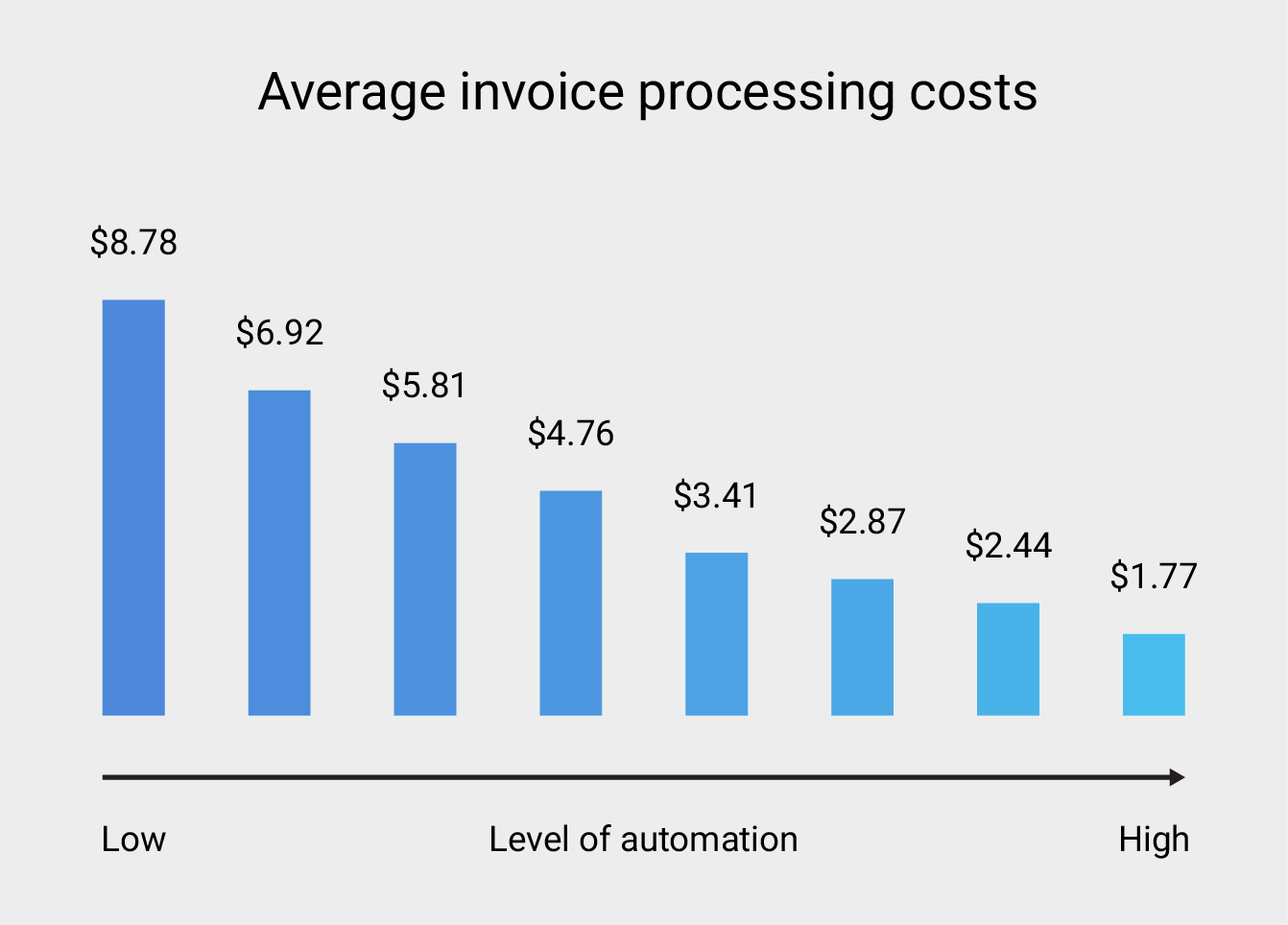 Accounts payable tasks can be daunting and take time. That's why more and more companies are moving from manual AP processing to automated using artificial intelligence (AI). In fact, PYMTS.com and Mastercard report that 27 percent of companies have implemented some form of AP processing automation. And 74 percent of those that haven't plan to do so within three years.1
The question is, just how much improvement can companies expect changing from manual to AI and automating their AP process? Let's take a look at three ways switching from a manual to AI can impact your AP process.
Manual to AI AP Process: 3 key areas of improvement with automation
When companies switch from a manual to AI AP process, they can expect three key areas of improvement:
How quickly invoices are processed
How accurately invoices are processed
How many early payment discounts are captured
Each of these key factors contribute to the overall savings gained after switching from a manual to automated AI AP process. Cost is a principal when it comes to accounts payable, which is why it's important to know how much can you save with automated AI AP processing. Let's take a look at Manual vs. AI AP Processing costs.
Manual vs. AI AP Processing Costs
The Accounts Payable & Procure-to-Pay (APP2P) Network2 points out that best-in-class financial departments are nearly twice as cost-efficient as those of median organizations.
| | |
| --- | --- |
| Financial Department | Cost of the finance function as a percentage of revenue |
| Median | 0.91% |
| Best-In-Class | 0.48% |
One major contributor to the high bottom-line cost of running a finance department is the cost to process invoices. The more invoices a company has to process and the more manual that process is, the higher the average is to process an invoice. Conversely, the more automated a company's AP process is, the lower the cost is to process invoices.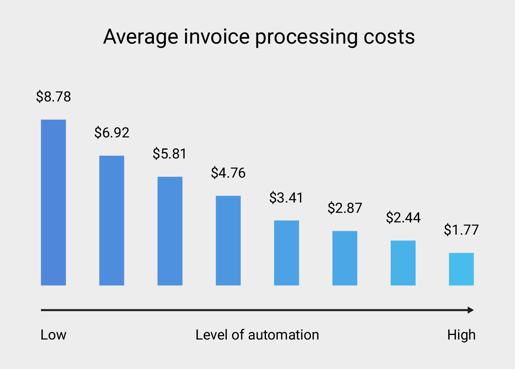 Source: APP2P Network: 5 Ways Artificial Intelligence Transforms Accounts Payable
To put it in more concrete terms, the average monthly cost to process 5,000 invoices manually is $64,500. Contrast that with processing the same amount of invoices in a highly automated AP operation comes to $8,850. That's a savings of more than 85 percent.2
The rewards of capturing early payment discounts
Not only can companies reduce AP processing costs by moving from manual to AI through automation, but they can also save money by capturing more early payment discounts. With faster processing times, and fewer inaccuracies, an automated AP process allows companies to make payments faster, thereby taking advantage of vendor inducements.
The Institute of Finance & Management (IOFM) estimates that organizations can capture from approximately 50 to 75 percent more early pay discounts, depending upon their level of AP processing automation.3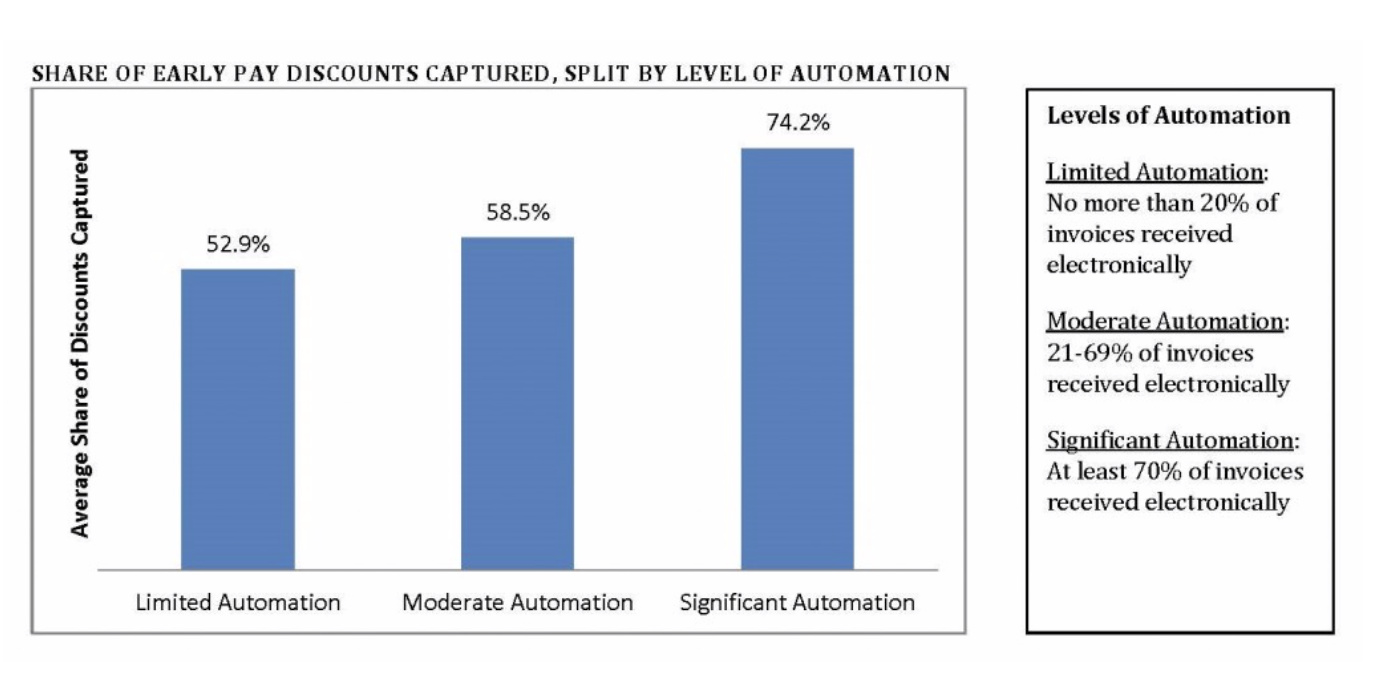 Save AP time and money with Ascend Software
Moving from manual to AI automated AP process? Ascend Software provides business process automation solutions known for their performance and functionality. We've been around since 1997 and are distributed in 14 countries.
SmartTouch AP is designed to help companies go from manual to AI AP processing so they can process invoices more efficiently through smarter steps and fewer touches. They are quick to implement, easy to use, and yield a quick ROI.
Move from manual to AI automated AP processing and see the improvement. Here are just a few ways we help companies save time and money:
Ascend SmartTouch AP is an automation solution that lets you scan, clean, store, validate and all of your invoice data quickly, accurately, and securely.
AI AP processing allows you to verify invoice information, pair with purchase orders, and automatically separate invoices that need special processing.
Our solutions result in reduced manual labor (fewer letter and emails to open, and invoice data to keystroke). Coding is automated and integration to your ERP is automatic.
---